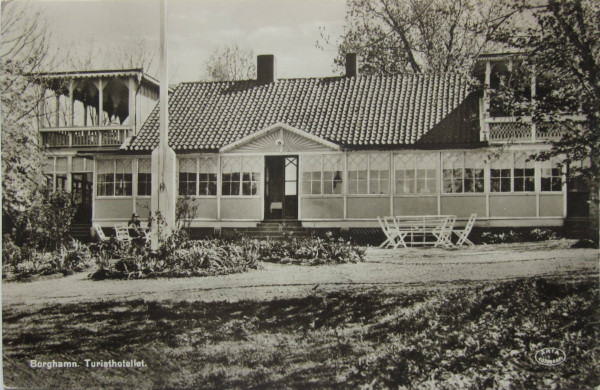 A greeting from Borghamn. The pictuzre postcard shows "Borghamns Turisthotell" and was taken in 1939.
The narrow-gauge railway between Vadstena and Ödeshög was opened in 1888. This marked the beginning of tourism on the Omberg: Omberg's Turisthotell in Alvastra was inaugurated in 1892, Gyllenhammar's boarding house in Borghamn in 1914 and the youth hostel in Stocklycke in 1934.
Thanks to the railway connection, it had become easy for the inhabitants of nearby cities to get to the Omberg.
Borghamns Turisthotell, also called "Ombergspensionat", was established in the former officers' mess of the Kronoarbetskår, a military disciplinary corps, a little bit above the harbour facilities, i.e. today's Borghamn Strand. This was the original location of the Göta Kanal company's engineers accomodation. The military built a larger house with a glazed veranda and a view across Lake Vättern.
After the military had left Borghamn in 1894, the trade fair was turned into an inn and then into a tourist hotel. Guest rooms were located on the upper floor of the large outbuilding in the harbour. It is unknown when the two-storey side verandas were added.
The hotel was closed in 1957. One year later the railway to Hästholmen and Ödeshög was closed. The century of automobile tourism began. The rector of the rural household school lived here for several years. After that there was a scout home here. At times the rooms were also used by the youth hostel. At last "Liden", as the building was called, stood empty. In 2017 the plots of the former Turisthotell and the harbour with its buildings were separated from Omberg's Ecopark. "Liden" was sold by Sveaskog in 2017 and is now a summer house which is being renovated by the new owner.
Join us on a guided tour through Borghamn Strand, Bockakyrkågården and the old quarry.
Welcome to "Sten födde Borghamn", "Kulturguidningar i Dal" and Borghamn Strand !
See you !