Vadstena
Lilla hamnarmen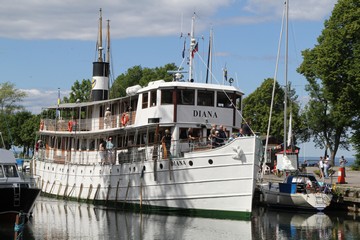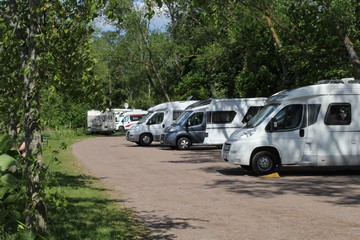 Vadstena's pitch is on the other side of the moat opposite the guest harbour. The motorhomes are located in an area directly at the Vättern. On Wednesday evenings in summer, starting on 25 May, the town's nostalgic evenings take place here. Then many motor vehicles and visitors meet here.
Prices
Main season weeks 18-36
Pitch with electricity: 230: -
Pitch without electricity: 200:-
Low season weeks 37-17
Pitch with electricity: 200:-
Pitch without electricity: 150:-
The pitches can , be booked. Pitches are booked from 14:00 to 14:00.,.
Payment via booking system.
Manning
If you have any questions about the pitches, call Vadstena Castle at +46-143-621600. Monday to friday 10-16.
Service
Electricity is available for 40 motorhomes.
Shower, toilet, water and disposal of dirty water/latrine are in operation.
The toilets at Vadstena Castle can be used with a service code until 12 o'clock at night.
The green service building is open around the clock. Access with service code on the overnight stay receipt.
Please dispose your waste in the garbage bins in the parking lot.
Recycling waste is disposed in the containers at the entrance to the campsite.
Hopefully you will enjoy the bold pitch!
Subject to change without notice.
The pitches are owned by Vadstena kommun and are operated by Visit Vadstena AB.
Vadstena Guest Harbour and Pitch (Information in Swedish and English)
---
Vadstena
Vadstena Camping
Campsite and quick-stop site for motorhomes and caravans.
The campsite is located about three kilometres north of Vadstena between road 919 and the lake Vättern.
Prices
340 SEK/day from 9/6 till 21/8
290 SEK/day other times
Midsummer 375 SEK/day
Electricity: 50 SEK/day will be added!
Quick stop: 180 SEK (provided you arrive after 18.00 and leave before 10.00 the next day). Electricity included!
Open 2022: 29 April - 11 September
+46-143-127 30

Vadstena Camping.
---
Borghamn
Borghamn Strand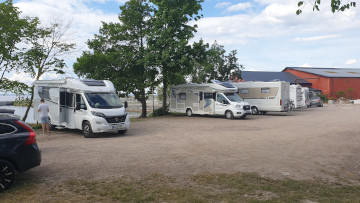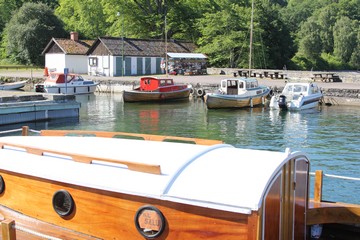 Site att the port of Borghamn (Borghamn Strand)
Price: 230 kr/night with electricity and access to shower, toilet and self-catering kitchen in Borghamn Strand, payable by Swish or with card at Borghamn Strands reception. There are now six sites and all are bookable.

+46-13-81 00 00.

Borghamn Strand
Closed during winter: November - March
Borghamns pitches are located in a cultural-historical and listed area at the northern edge of the Omberg, where limestone has been quarried since 1100. Stone from Borghamn was supplied for the construction of many famous buildings in Sweden, such as the monastery church in Vadstena and the fortress of Karlsborg. Stone processing (limestone and marble) is still Borghamn's most important industry.
The harbour and the buildings and facilities in the harbour area were created during the heyday of the quarry, when the Göta Kanalbolaget (Göta Canal Company) established the harbour and the Crown Labour Corps set up a prison.
During the summer months there are guided tours in the harbour area and the quarries.
---
---
Ecopark Omberg
Stocklycke with Almalyckan, Stocklycke hamn, Pers sten, Anudden
The number of visits by motorhomes in the Omberg region has increased steadily in recent years. The forestry company Sveaskog, which is responsible for the maintenance of the Omberg Ecopark, has therefore created parking spaces exclusively for motorhomes.
The largest motorhome parking area, with ten spaces, is in Stocklycke, next to the automobile parking area. There is also space for three motorhomes at Almalyckan (between the Tourist Hotel and Sverkersgården), and further space for two motorhomes on Norra Sjövägen near Anudden, for three cars at Pers Sten and for five cars at Stocklycke harbour.
With the improved level of service for camper parking (latrine and grey water emptying and the possibility to fill up with fresh water at the car park in Stocklycke, Sveaskog has introduced a parking fee, which is 150 SEK/day, as of 1 July. The places at Stocklycke can be booked for a maximum of 3 nights in a row, all others for one night only. It is not possible to book in advance. Spaces are released every day at 15.00. It is not possible to book a place earlier than that.
Pay on site via QR code on site or the url Ombergbokning. Please quote the registration number of the motorhome when paying. Leave the site clean and tidy after your stay.
Latrine and grey water emptying can be booked without pitch booking at a cost of 30 SEK.
Opening times
April-September.
In times of heavy rainfall, the Stocklycke site may be temporarily closed.
Contact
0771-787 100
kundcenter@sveaskog.se
---
Visitor's parking Borghamn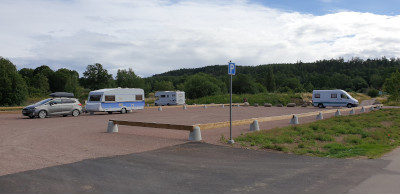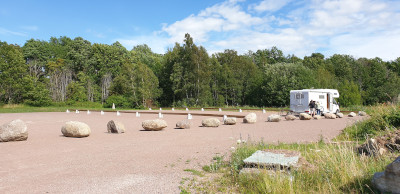 A new large visitor parking area for cars has been located at the harbour entrance in Borghamn (Borghamnsvägen/Norra Sjövägen intersection) since spring 2022. Motorhomes can also park here. The distance to the harbour is 200 m and to Omberg 500 m.
---
Hästholmen
There is parking a short distance from Omberg at 31:ans Ice Cream and Kitchen on Hamngatan 31 and another 20 on Hästholmens Västergård (200 SEK with electricity, 160 SEK without).